World Dryer Corporation is proud to announce another innovative breakthrough in warm air hand drying.

AirForce™ utilizes an innovative warm air Multi-Jet hand drying technology.
● Fast dry times and low energy costs
● Automatic infrared activation ensures optimum hygiene levels

AirForce™ Model J, J4, and J48 hand dryers are manufactured by World Dryer Corporation. Hand dryer assembly is housed in a die cast aluminum housing, finished in epoxy paint that is incorporated with SteriTouch® antimicrobial additive, or housing finished in chrome plating.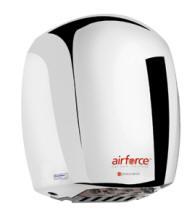 Features:
The Airforce™ motor is a universal brush type, thermally protected engine operating at 34000 RPM. The dryer is activated by an automatic infrared sensor with a one second run-on time and 30 second vandal shut-off. The control board has conformal coating. The Airforce™ Dryer provides a 40° F temperature rise, and PC/ABS internal housing components that are V0 or V5 flame retardant.